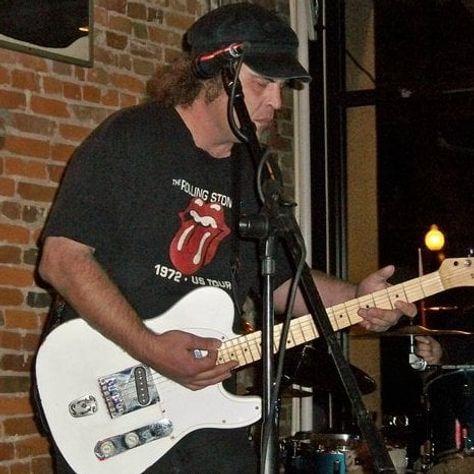 Jimmy Fleming first picked up a guitar at the age of 3. Raised in a musical environment which included being on the road. In the 1970s and 1980s with his parents worked with Bluegrass Legends. There was no such thing as life without music. Bluegrass was gradually eclipsed by The Rock and Bues of The Rolling Stones Rush, Stevie Ray Vaughan and a wealth of others, as well as the Film Woodstock.
All the possibilities were now open. At 16 he got a driver's license and began playing Honky Tonk Bars learning trial by fire the diversity of music required to make sure a crowd of all tastes was properly entertained. 15 years of the Proverbial Human JukeBox on the roads was the Education. The second 15 years were applied in learning to write his own music. Where he had become an Indie record producer and Label owner.10 albums later the story continues. 
33 years after first setting foot on the professional stage. Constant Rebirth and Reform has seen Jimmy go from the bars and clubs to offers of recording contracts in Los Angeles, Featured nights in Nashville, Live radio interviews with Woodstock Creator Artie Kornfeld and Angie Bowie, and due to Dystonia advocacy in-person conversations with legends like Alice Cooper
Jimmy has opened for Grammy award-winning acts such as The Kentucky Headhunters, The Late Jani Lane of Warrant, and Country star Martina Mcbride. 1990 brought him to tread the boards on Columbus, Ohio's World famous Newport Music Hall. Where he was a surprise guest of Guitar Master Frank Harrison on the first annual Stevie Ray Vaughan Memorial.
Jimmy is not only an advocate for the aforementioned Neuro Disorder "Dystonia" he suffers from it personally and has been sidelined a few times due to its Destructive nature of firing of the Brain and Loss of Motor skills. Yet he continues to get back in the ring and fight for his music. A Documentary of this Battle "Witness the Rising " is slated for release in the near future.2018 brought a cowrite and production with Miss Maya Calvert Grandaughter of Hawkwind Legend and solo artist Robert Calvert.
More music and video can be found at https://amazingradio.us/profile/jimmyfleming